Yes, I know, I'm supposed to be posting. Don't get on me for that.
But anyways, I wanted to get some recommendations for different K-Pop, J-Pop, any pop artists/groups as well as some K-Drama.
So you've all probably know I've loved GOT7 for a long time, and that it's been my favorite band since the beginning.  Trust me, I love other groups as well, but GOT7 seems to top them all, and I find it hard to NOT listen to at least a few of their songs every day.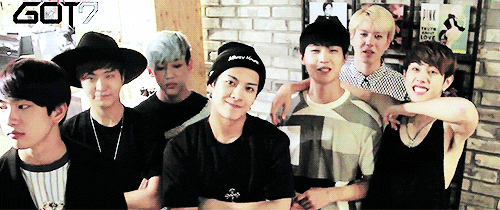 So I'm still sorta-kinda-not-really new to K-Pop.  I've been into it for a while, but… I haven't quite gotten myself obsessed with very much.  OF COURSE I still love K-Pop, but I'd like to know some really good other bands.  Even if it's not K-Pop.
But getting back on track, I don't actually know a lot of bands.  So in the comments below, I'd appreciate learning some new K-Pop, J-Pop, C-Pop, Mando-Pop, whatever bands so I can begin a new phase of fangirling lol.
As for K-Drama, I know Yuki's talked about it quite a bit, but I've actually never watched any.  She makes it seem interesting, so I thought I'd try it out.  Although I'm not sure what to start with.
Right now the only things I ever watch are anime and Fuller House I have no life so I want to add some K-Drama to my list. 😉  Thanks Yuki for introducing me to Korean media. xP
So any suggestions?  Leave them below, I'd love to hear from the people who most likely listen to/watch more Korean media than I do because I'm a total noob.
Sayonara! ~Annabeth♥